Updated January 10, 2023
Mangal Pandey was a great Indian soldier in the British East India Company and is remembered for his brave deed and sacrifice. When it comes to recalling the genesis of the movement for India's freedom, Pandey tops the heroes.
India got independence after many brave-hearted sacrificed their lives in course of fighting the British regime. Un-disputably, Mangal Pandey was one of those martyrs, who laid the foundation of a revolution that eventually led to freedom.
He rose against his British officers, disobeyed them, and fight for justice. He led the first war of Indian Independence also known as the revolt of 1857.
Mangal Pandey: The Rising (internationally known as The Rising: Ballad of Mangal Pandey) portrayed his life and actions to tribute him.
Childhood and Early Life of Mangal Pandey
Mangal Pandey was born on July 19, 1827 in Nagwa. Although, some peoples believe that his birthplace is near Lalitpur (in present-day southwestern Uttar Pradesh). He belonged to a high-caste Brahman landowning family, who was a firm follower of the Hindu religion.
In 1849, At the young age of 22, Mangal Pandey joined the army of the British East India Company. He worked as a sepoy in the 5th company of the 34th Bengal Native Infantry, which had mostly brahmans.
He was ambitious and considered his profession as a sepoy to future success. However, he came into conflict with his religious beliefs in 1857, when a new Enfield P-53 rifle was introduced to the army.
Making the grease used in the rifle from the fat of cows and pigs, offended both Hindus and Muslims.
The Role Played by Mangal Pandey in the Revolt of 1857
On the afternoon of March 29, 1857, Lieutenant Baugh, the Adjutant of the 34th Bengal Native Infantry, was informed that one of his soldiers, Mangal Pandey, was pacing in front of the regiment's guard room armed with a loaded musket and inciting rebellion against the British.
An investigation later revealed that Pandey's behavior may have been due to unrest among the sepoys and possible intoxication by drugs like cannabis or opium. Baugh went to confront Pandey and when he arrived, Pandey fired at him and missed, hitting Baugh's horse instead.
Baugh then pulled out his pistol and fired at Pandey, but also missed. Pandey then attacked Baugh with a sword, knocking him down.
A soldier named Shaikh Paltu tried to intervene and was attacked by other soldiers. A British sergeant-major named Hewson arrived and charged toward Pandey, but was knocked to the ground by a blow from Pandey's musket.
Other sepoys gathered around and watched as Paltu tried to hold Pandey back, but was ordered by the soldiers to release him. The commanding officer, General Hearsey, then arrived and ordered the guards to arrest Pandey.
Pandey later attempted to shoot himself, but was unsuccessful and was brought to trial. During the trial, Pandey stated that he acted on his own accord and was under the influence of bhang.
Pandey and a soldier named Jemadar Ishwari Prasad were ultimately sentenced to death by hanging.
Why did Pandey Attack the British Officers?
The British introduced a new Enfield rifle in India, which was greased using the fat of cows and pigs. This was disrespectful to both Hindus, for whom cows are holy, and Muslims, who find pigs repugnant.
Mangal Pandey was a great devotee of Hindu Dharm, he became furious after knowing the use of fat in the cartridge. Pandey decided to take action and shows disapproval against the British.
On 29 March 1857, at the Barrackpore ground near Kolkata, Pandey attacked two British officers Lieutenant Baugh and Hewson, and injured them. He was injured too but recovered and was brought to trial less than a week later.
The Mainstream Portrayal of Mangal Pandey's life
Mangal Pandey has been the central character in Bollywood movies, stage plays, and novels. In the movie Mangal Pandey: The Rising actors Amir khan, Rani Mukherji, and Amisha Patel have portrayed the life of Pandey very lively.
There is also a stage play namely Roti Rebellion staged by a theatre group 'Sparsh' based in Hyderabad. The play gained massive popularity.
Mangal Pandey has also been the central character of the novel White Teeth by Zadie Smith in the guise of Samad Iqbal who actually is a descendant of Pandey.
How did Mangal Pandey die?
"On April 8, 1857, we arrested Mangal Pandey and sentenced him to death. Initially, 18 April was the date of execution but British authorities moved up the date from 18 April to 8 April due to the fear of Revolt.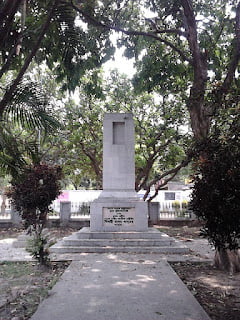 On 5 October 1984, the Indian government issued a postage stamp to commemorate Pandey.