Updated February 16, 2023
Rajashree Jichkar is the wife of late Dr. Shrikant Jichkar whom the Limca Book of records holds as the most educated person of India. Miss Jichkar heads Dr. Shrikant Jichkar Foundation, Nagpur and has association with various organizations in academic, social, religious & cultural space.
The lady Jickar commands immense respect among the youth of Vidarbha, Maharashtra state and, is inspiration to many, when it comes to community welfare. The 'Zero Gravity' an execution wing of her foundation brings together the volunteering young to use their genius in social makeover.
Rajashree Jichkar was born on June 11, 1967 at Akola, Maharashtra to a traditional Marathi Family. She earned an Architect degree but has also worked in capacity of Valuers, Chartered Engineers and Building Consultants. Her active involvements in the social, religious causes often make the news.
Early Life and Family
Born in a Marathi family of Akola district with traditional values, she never experienced the typical gender discrimination among the siblings. Her parents were quite forward looking and had a fair idea of empowerment that education can brings in. And that's why after her schooling she got a chance to graduate with architecture degree.
Her parental family uses surname of Sapkal and are into business for long. Madhusudan Shreedhar Sapkal, Padmaja Madhusudan Sapkal and Abhijit Madhusudan Sapkal are her father, mother and brother respectively all staying in Nagpur.
Except their being into business, there is not much information available on her parents and siblings but impressions from media sources is that her parents come from OBC. In laws' family is a Kunbi Maratha. Included in OBC as on date, the Kunbi largely formed the army of Shivaji and were ancestral to Shinde, Bhosale, Pawar and Gaekwad.
Presently, Rajshree Jichkar's family includes her daughter Maitreyi Jichkar and son Yajnavalkya and sets out an example of a close knit happy family.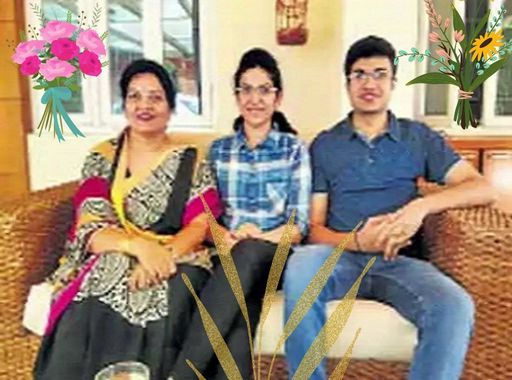 Crucial info on Rajashree Jichkar
Here are the important information on Social and Community icon Rajashree Jichkar. Just have a look before you move on to the paras that follow.
| | | |
| --- | --- | --- |
| Sr. | Particulars | Details |
| 1. | Age | 56 Years |
| 2. | D.O.B | June 11, 1967 |
| 3. | Spouse | Late Dr. Shrikant Jichkar (1954- 2004) |
| 4. | Children | Maitreyi Jichkar (daughter), Yajnavalkya (Son) |
| 5. | Residence | Nagpur (Maharashtra) |
| 6. | Profession | Social activist and Makeover Strategist |
| 7. | Education | Bachelor in Architecture University of Amravati |
| 8. | Personality | Soft spoken, Sanguine, Religious & philosophical |
| 9. | Associations | Dr. Jichkar Foundation, Zero Gravity, Project Happiness, Fund Ed, Project Earth, Project Hindustan, The Happy School Project, Shelter Home Makeover, Sandipani School, Pragatisheel Tirle Kunbi Samaj, Arsha Vijnana Gurukulam |
| 10. | Director | Orbit Motels and Inns Limited, Orbit Motels and Inns Limited, Ysj Megaventures Private Limited |
| 11. | Famous for | Flag bearer of Dr. Shrikant (Limca Book Record Holder) |
Professional life of Rajshree Jichkar
Miss Jichkar is an architect by training but social crusader by choice. She could be seen actively leading many campaigns that includes AIDs awareness, malnutrition eradication, Diabetic Camps, Health walkathons etc. Obviously, the impact of late Dr. Jichkar on her life is huge and she is into furthering the cause espoused by him
She has got many dimensions to her life: an agriculturist, painter, social worker and exceptional organizer. Rajashree is at helm of Dr. Shrikant Jichkar Foundation which is doing great in various fields of social makeover under an operation wing by name: Zero Gravity.
Yes, Rajashree heads Dr. Shrikant Jichkar Foundation, an NGO that works for the poor, needy and less fortunate. She is also the President of Dr. Shrikant Jichkar Memorial Arsha Vijnana Gurukulam. The Gurukulam is a great learning centre of Ved, Vedant and Sanskrit.
Smt. Rajashri Shrikant Jichkar is also the President of Sandipani School based out of Nagpur which was founded by none other than legendary late Shrikant himself.
Miss Jichkar published the first ever Almanac in Marathi language by name 'VishwakoshVarshiki 2005'. In fact, seeing an almanac in Marathi was a dream to the late Shrikant which Rajashree brought in being.
Smt Jichkar is a personality of able leadership which commands huge respect from a massive number of local youths. It is her leadership that brings youth power together to serve the society in various ways. Her volunteer team works for the welfare of orphans, old age people, poor kids and other needy under various campaigns.
Miss Jichkar possesses an excellent academic records and truly represents the woman power of today. Her active involvement with many different organizations aiming to bring in larger good in academic, social, religious, cultural space speaks volume of her professional faculties.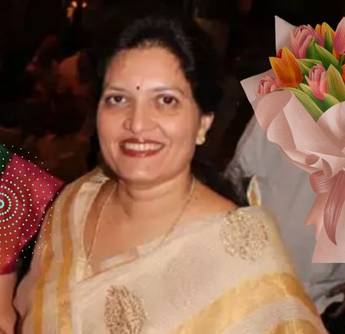 Views and Thoughts of Rajashree Jichkar
Miss Jichkar is a mother first and her professional aspirations come later. It was this perspective of her that made her prioritize raising the children over the political avenues after death of Dr. Shrikant.
At the time of death of Dr. Jichkar, Rajashree was offered positions in Politics by the Congress party but she chose a good upbringing of kids first. And, instead she started devoting her time to social causes that Dr. Shrikant was already much into.
She was never averse to politics but prioritizing the obligations is what she is more into. The lady Jichkar looks back and takes pride in saying that "If I had thought of joining politics at that time, I wouldn't have been able to create a future for the children. Now the children have grown up and they have to take decisions about politics."
On a separate Vidarbha issue, Jayashree has altogether a different opinion. She has been quoted saying that instead of asking for a separate state, attention should be on the development of Vidarbha.
And, that if the leaders of Vidarbha work as brothers instead of demanding a separate Vidarbha, it will be a better way possible to develop the region.
She is a visionary and knows how to empower the society and make the local Vidarbha a truly digital. Jayashree is of opinion that knowledge of English and empowering the girls is crucial for a true progress.
Under her empowerment model she prepares a village girl teacher first and then education to other villagers is imparted through her. Her model has been appreciated across the country and the proposals from Rajasthan and West Bengal has come for the exact blueprint.
She says that, it is her family values that has impacted her both kids to focus on the education of rural children.
In fact, her daughter Maitreyi is credited with founding Zero gravity a branch of Jichkar Foundation. She has been a TEDx speaker and you can check as to how she dropped out of college to pursue this larger good of society.
And, the son Yajnavalkya has come forward to assume certain responsibility in Congress Party to better serve people.
What Does Dr. Shrikant Foundation do?
Rajashree founded Dr Shrikant Jihckar foundation in 2009 in the memory of her late husband Dr Shrikant Jihckar.
The idea was to serve the society on the principles of Dr. Jichkar who was a great scholar, academician, educationist, humanitarian, social worker and a great believer in Vedas and Sanskrit.
The foundation operates through its youth volunteer network Zero Gravity which is said to be brainchild of Maitreyi, the daughter of Jichkar couple.
Zero Gravity has two manging trustees Maitreyi Jickar and Yajnavalkya Jichkar, the son and daughter of Rajashree, respectively.
The foundation works for many causes: turning the Govt schools into better place of learning, makeover the shelters for orphans and old age, uplifting the economic conditions of poor, campaigns for being compassionate to deaf-mute & mentally retarded, campaign for judicious use of natural resources and the likes.
Concluding Words on Rajashree Jichkar
Rajshree is among the rare women power who have the grit and mental toughness to cope up with the unbearable losses in life. Her husband Dr. Shrikant died in a road accident at very young age in 2004 and Rajshree was only37 at that time with two children to be raised.
However, she very bravely dared the adversity which had otherwise turned around her world, to not give up before it.
Today, she not only has furthered his late husband's cause, she has also created her own niche in the challenging space of social and community welfare. She has been able to provide a decent upbringing to Maitreyi and Yajnavalkya with high moral values.
Of course, the values of Shrikant must have transferred into his kids but it couldn't manifest without the sheer hard work of Rajashree. While Maitreyi is herself is a social good icon, Yajnavalkya has been appointed as Secretary, Maharashtra Pradesh Youth Congress.
It is no exaggeration to say that under able motherhood of Rajshree, the entire family has turned to be true flag bearer of Dr. Shrikant's life & Philosophy
Frequently Asked About Rajashree Jichkar
Q. Who is Rajashree Jichkar Son?
Ans: Yajnavalkya Jichkar is the Son of Rajashree Jichkar.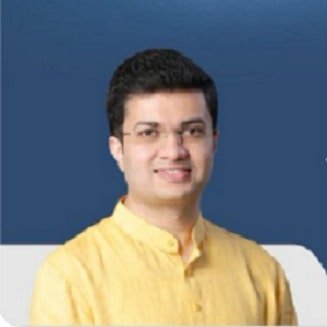 Q. Who is Dr. Shrikant Jichkar Daughter?
Ans. Maitreyi Jichkar is the daughter of Dr. Shrikant Jichkar.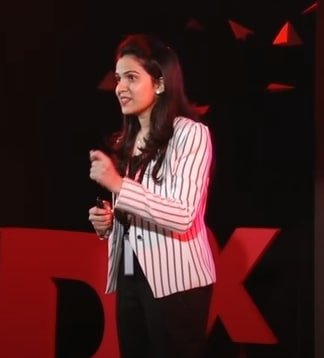 Q. Who are Shrikant Jichkar's Children?
Ans: Maitreyi Jichkar (daughter) and Yajnavalkya (Son) are Children of Dr. Shrikant Jichkar.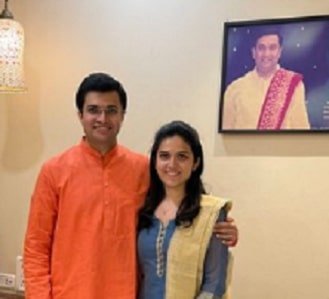 Q. How Long the Spouse of Rajashree Jichkar Lived?
Ans: Rajashree's Spouse, Dr. Shrikant Jichkar lived between 1954 to 2004.
Q. What was the Reasons of Death of Dr. Shrikant Jichkar?
Ans: Dr. Shrikant Jichkar died out of a car accident in 2004
Q. In which year was Dr Shrikant Jichkar elected to the Maharashtra legislative assembly?
Ans: It was 1980 when Shrikant was elected to Maharashtra Legislative Assembly at a young age of 25. Later, he was also elected as member of the Maharashtra Legislative Council for 1986 to 1992 term.